SHOP
Best-selling case-crushing resources for your greatest success.
Build the Skills, Build the Cred

Online Products to Ramp You Up!
Case Interview Workshop
Marc Cosentino's 3-part Case Interview Workshop is now available on video! Get 90 days of access today!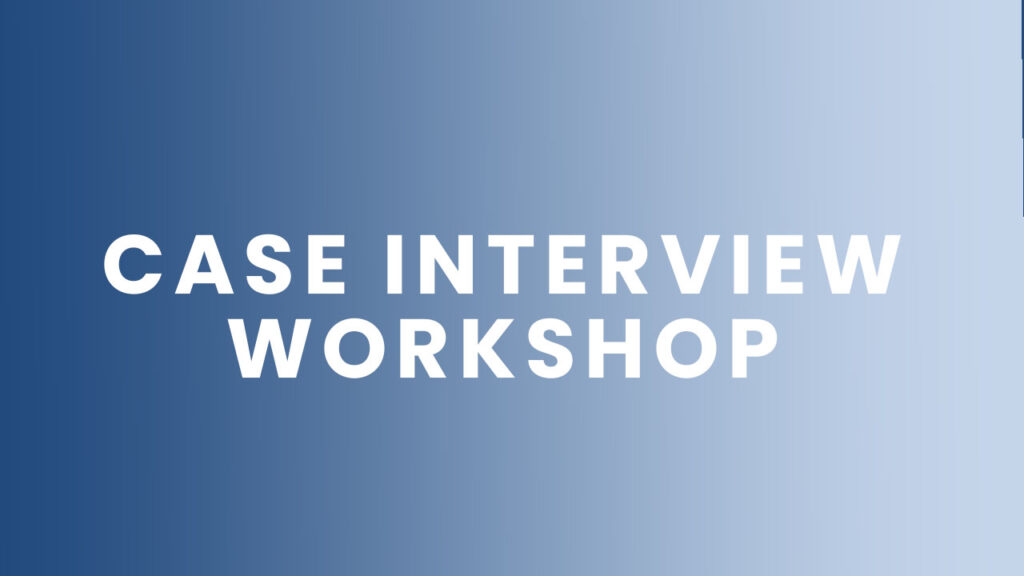 Case Questions Interactive
Because life-changing jobs require more prep than classes can provide. Your options vary.
Right-size the access you need, whether you're seeking practice opportunities for 3 or 365 days—whether you're an individual or a school/club. Newly updated, CQI is chock-full of resources that are available to you for a variety of time periods. You'll get business math problems, market sizing exercises, case starts (both written and video), Ivy case drills, chart analysis, ten interactive cases, and three day-of-interview-warmup sessions.
MBAs, industry hires, and more, start now if you're serious about landing your dream job.
Schools and clubs, check out your options for access to groups.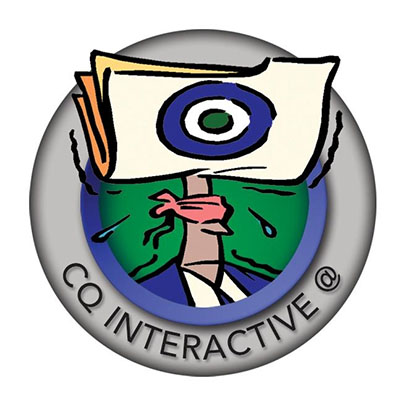 Video Vault
Learn by watching. Access 15 videos, 10 case starts, and 5 full-length interviews with Marc Cosentino, the world's foremost authority on case interviews. Listen as Marc makes comments as the student works through the cases. Put yourself in their shoes: How would have you done in each instance? 

Case In Point – Audio Course
You can now prepare for your case interview during your commute, on a job, or just running errands! With this first-of-its-kind audio course, we've turned Case in Point into a comprehensive, in-depth audio course so that you can learn wherever, whenever. The audio course includes summaries, transcripts, flash cards, and role-playing exercises.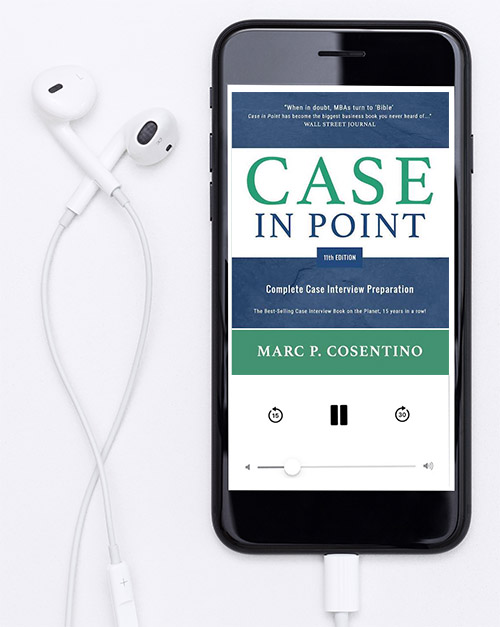 Casey Practice Cases
Less than 2% of all applicants land an offer with the top consulting firms, such as McKinsey, Bain, and BCG. Feel that you have mastered the basics of cases, but need more practice? Start practicing today with Casey practice cases.
Casey is your perfect practice partner. Casey is just like an expert case coach who will give you detailed insights on your case performance, but is available 24*7 and at the fraction of the price of a live coach.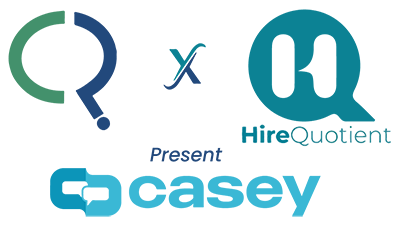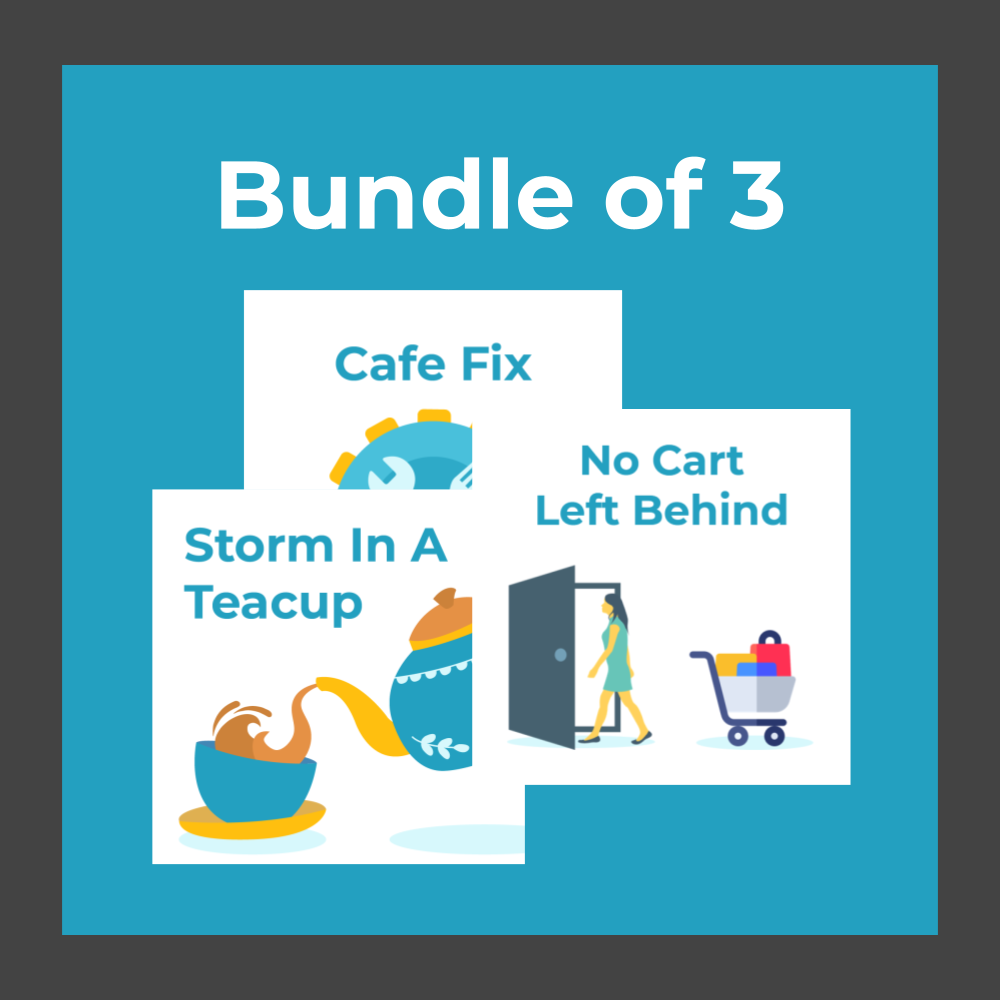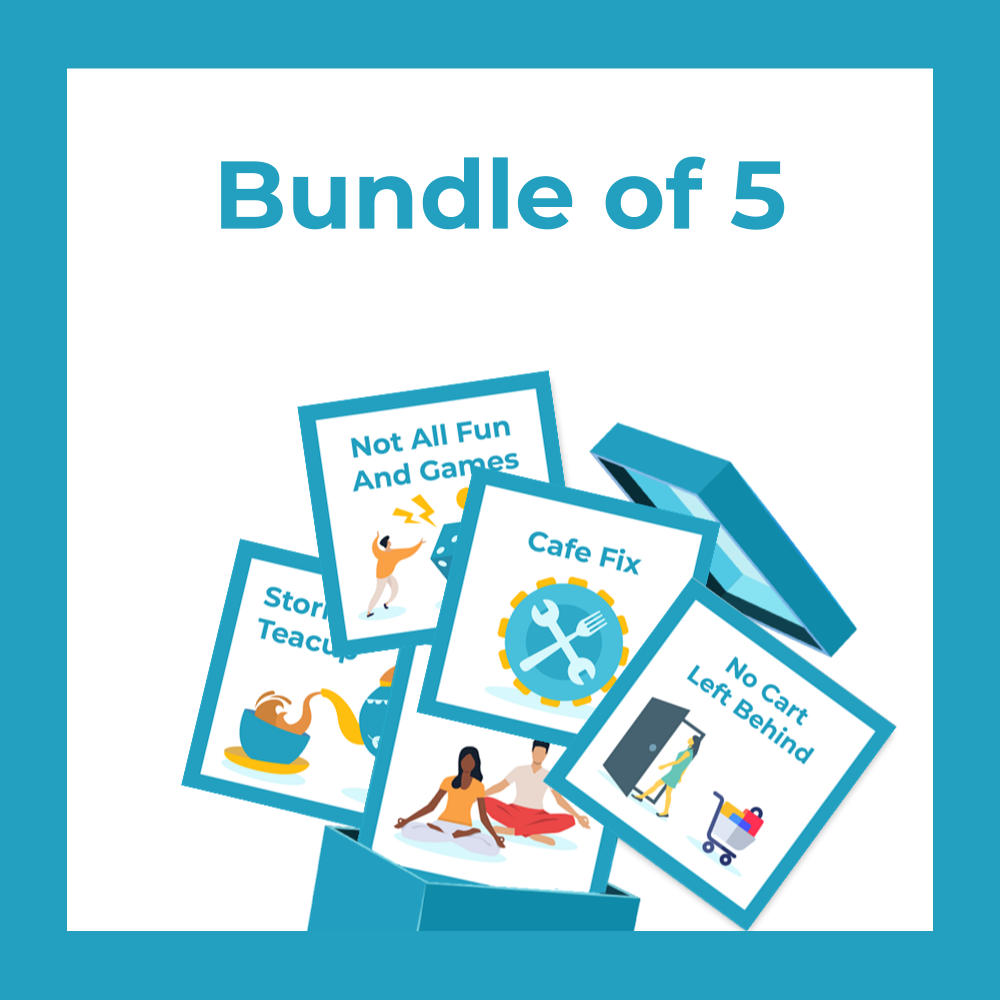 Want to Crush Your Case Interview?
Seize Your Dream Job?
You'll need the best-selling book the Wall St. Journal calls "the Bible" for MBAs, undergrads, and industry hires. 
Case in Point11
Complete Case Interview Preparation
Case Questions founder Marc Cosentino takes you inside the case interview and shares his proven system—so you can address today's most challenging case questions with confidence. In this new 11th edition, you'll get 20% fresh material including:
The latest interview structures

The 4 key case scenarios

30 well-crafted practice cases—plus 5 case "starts"

Streamlined content on how to prepare, and how to perform
You'll also get Marc's insights on McKinsey's new video game application, BCG's online exercises, and 4 fresh cases.  Case in Point11 helps you build your case cred from start to finish—with plenty of graphs and lessons built in. 
Often imitated but never duplicated, Case in Point delivers the most comprehensive interview strategy available—which is why it is the best-selling case prep book on the planet 15 years in a row!  
P.S. Need to order in bulk? We can help you here with the best discounts.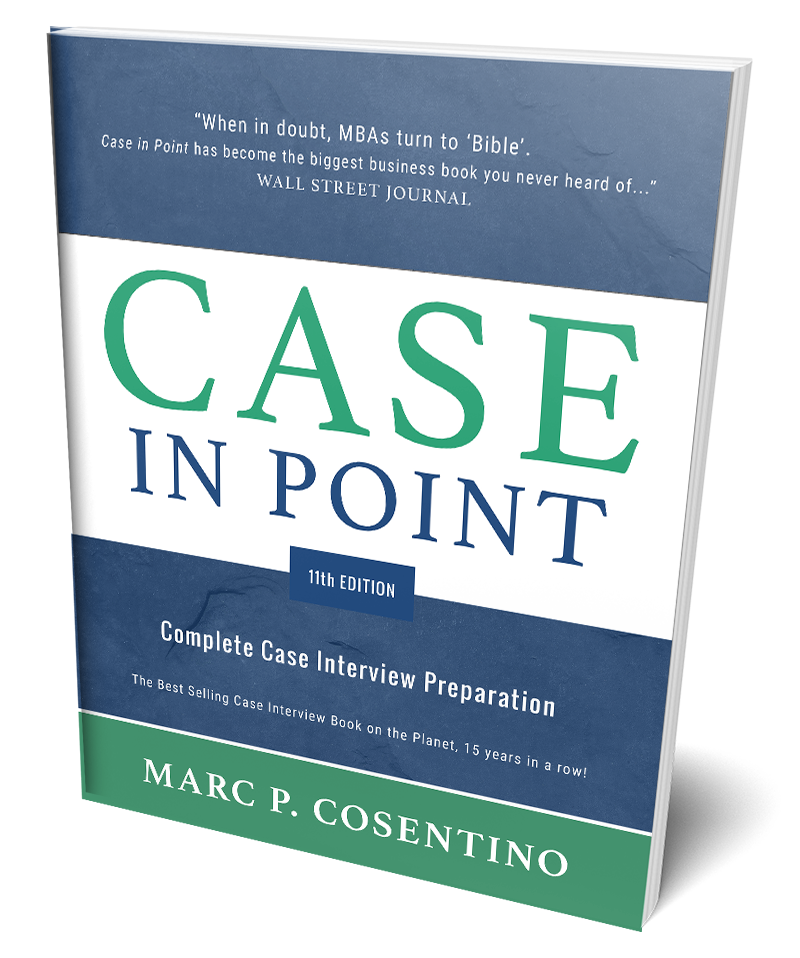 Book of choice for the Ivies and Big 3 firms
"Lucid, down-to-earth, demystifying, and surprisingly entertaining."
—Recruiter, McKinsey & Company
★★★★★
Far and away the best. Digestible chapters that are funny, interesting, and incredibly helpful
★★★★★
As a former consultant who has worked with MBA students for a decade, I highly recommend Case in Point. No better source. Logical, practical, understandable…with essential interview tips, frameworks, and cases that span industries and functional areas. Case In Point will take your fear out of interviewing.
★★★★★
I owe Cosentino everything
★★★★★
I'm ecstatic to be joining Bain! Case in Point helped make a very stressful, nebulous process easier 
★★★★★
Easy language and I appreciate the humor + flow! 
Case in Point: Case Competition
Creating Winning Strategy Presentations for Case Competitions and Job Offers
The must-have guide to transform classroom knowledge into high-impact wins.
Why is the case method so important? It teaches emerging leaders how to analyze a situation—how to diagnose a problem, formulate a recommendation, present it effectively, and gain approval from top executives. In fact, the case method is one of the most productive frameworks you can leverage for success. The Amazon reviews say it all: 
★★★★★
The best way to stand out among a pool of elite MBA students is to dominate the details, and this is where this book thrives.
★★★★★
Read this before your first case competition!
★★★★★
As a professor, former consultant, and someone who has served as a judge for dozens of case competitions, I could not recommend this book more highly. This past semester I made the book required reading in my management consulting course. It's more than a book about how to win case competitions. It's a book about how to present a coherent, data driven (yet cognitively digestible), strategic recommendation to a group of busy (often distracted) senior level executives.
In this valuable guide, Cosentino collaborates with two "case competition geniuses" (Google) and "the ultimate case competition gurus" (ExxonMobil) — Kara Kravetz Cupoli and Jason Rife. Altogether, you get the frameworks and advice you need to apply the case method for your greatest wins.
Case in Point: Crafting Your Consulting Career
In Case in Point: Crafting Your Consulting Career, Piekara distills information garnered over his years in the industry by sharing anecdotes, his own experiences, insights gained through hundred of informational interviews, and wisdom from nearly 20 consultants who have had to navigate countless critical decisions throughout their careers. This digestible, reader-friendly guide provides timeless lessons for consultants, no matter their career stage.
Case in Point: Graph Analysis
for Consulting and Case Interviews
so you can address charts, graphs, and data sets with confidence. 
The use of complex graphs in case interviews has exploded. No doubt, you will have limited time to look at a graph, analyze it, extract what's important, and apply it to your answer. 
Authors Cosentino and longtime consultant Mukund Jain have designed this short guide to help you leverage graphs in consulting—during interviews, and on the job. You get their Ivy Graph Framework to help you analyze 11 of the most popular graphs effectively and efficiently. You also get 10 complex sample cases—with numerous graphs per case—to show how each case unfolds. See for yourself why there is nothing else like it.
Attention Public Sector Candidates
Case in Point: Government and Nonprofit
Case Interviewing & Problem Solving for the Public Sector
The public sector requires different preparation than the private sector—but you must be just as thorough. 
Start by adopting a mindset that puts stakeholders, mission, and impact at the forefront. And since the market is vast—spanning industries as far-reaching as military, law enforcement, infrastructure from the internet to bridges, education, and healthcare to name a few—you've got to be well-versed in your target sector's special jargon, constraints, opportunities, culture, partners, and politics.  Finally, because our fast-changing world demands better, cheaper, and faster services so you've got to pull it all together and operate at your best. 
In this indispensable guide, authors Cosentino and public sector guru Evan Piekara lead you through the many requirements, complexities, and nuances that define public sector work. Best-in-class advice includes:  
The types of public sector case interviews

3 core areas of practice—illustrated through 14 cases

8 tried-and-true frameworks, 5 key consulting skills, 14 sample cases
The special impact of stakeholders, culture, social responsibility, and more
Case In Point: Government and Nonprofit will help you differentiate yourself and help you compete for consulting jobs more effectively.
"This book distills what I've learned the hard way in the public sector, as a government official and a nonprofit executive."
–CEO, Direct Relief
"THE guide for new and experienced consultants in the public sector."
–Toffler Associates
"A practical, effective, essential resource for anyone looking to enter the field or sharpen skills."
–Executive Director, Louisiana Department of Education
"A thoughtful, engaging, must-read for aspiring and current practitioners."
–Senior Engagement Manager, McKinsey & Company
Whatever your needs, we can help.
Get a free copy of the Case Review Sheet
It's everything an interviewer looks for during a case! You'll also get periodic updates from Marc Cosentino.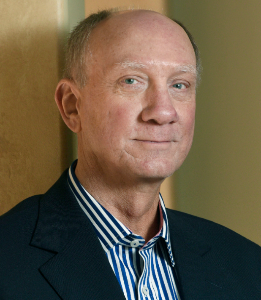 Case Questions founder MARC COSENTINO has trained more than 150,000 people. Each year, Cosentino leads in-person workshops at 45-50 top MBA programs and colleges. He coaches career services professionals. He trains science PhDs at Fortune 500 companies to think more like businesspeople. And he consults to a range of private sector firms, government agencies, and nonprofits. Santa Barbara-based Cosentino is a graduate of the Harvard Kennedy School and the University of Denver. Link In today.